Interview with textsound.org
An Interview with Anna Vitale and Laura Wetherington, editors textsound.org
ANNA VITALE's work has appeared in The Pulchritudinous Review and Shifter. She has collaborated with poets, musicians, and artists such as Carla Harryman, Viki, Dale Sherrard, and Chris Sollars. She teaches at Eastern Michigan University and works at Wayne State University Press. In 2007, she earned an MFA from Bard College. You can read her blog at living is happening.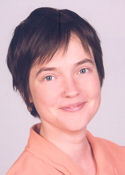 LAURA WETHERINGTON is a writer, teacher, and massage therapist whose poems have appeared in Bombay Gin, 21 Stars Review, and Starfish Poetry.
textsound, a new online journal of experimental sound, was begun by Anna Vitale, Laura Wetherington, Anya Cobler and Adam Fagin and launched in the winter of 2008. Anna and Laura spoke with Portal del Sol about the journal's beginnings and what sounds send them.
KCT: The thing that struck me about the first issue of textsound was the simplicity of it: it foregrounds sound by presenting a series of sound pieces alone without accompanying text. Can you tell me about how you came up with the idea?
LW: Anna had tried to do a sound-based project before, but it hadn't worked out exactly. So, when she and I began meeting once a week to talk about what we were reading and what we were making, we started to think about how we could make something happen in terms of creating community around poetry. Anna suggested some kind of sound-based journal.
AV: I had asked Anya if she wanted to work with me an idea I had based on John Giorno's Dial-a-poem project from the 70s and 80s, but the sound quality of the poems over my answering machine wasn't very good. When Laura and I started talking about the journal, I pulled Anya in to get involved. I met Adam at Shadow Art Fair and, from there, everything coalesced. Anya was teaching at Eastern [Michigan University in Ypsilanti, Michigan] and Adam was a student. It's a small world here, so it kind of happened naturally.
KCT: Another member of the Eastern faculty, Christine Hume, was a contributor to issue one. Is the University directly involved with textsound at all?
LW: We don't have any official affiliations with Eastern, but the Bathhouse reading series they run is in line with our project, and there are definitely a lot of professors—like Christine and Carla Harryman who's starting there—who share our interest in sound.
AV: We have informal relationships with these people at Eastern, and that's okay because it keeps us from the kind of challenges that might come along with working with a university.
KCT: textsound went live with a wide range of work, from sound poems from Magic Oneohtrix Point Never to pieces from Danish sound poets. Can you talk a bit about the aesthetic of the magazine?
LW: There are a lot of interesting layers to this question, I think. Between the four of us, our tastes are varied and we're learning to define what the group wants. We don't know the whole gamut of what's out there, so we don't want to limit ourselves
AV: In asking the four of us what we like, you might get a different answer from each of us, but the range of our interests is in the first issue. I'd say people should listen to the first issue to get an idea of what we like.
KCT: What has the reception been like for issue one?
LW: We're building momentum and expect that as we have more issues, we'll have more people finding out about us. But from the first issue, we got a lot of support from the people that we know and immediately then from the people who they know. We were on Ron Silliman's blog pretty early on. Another thing that helped was the launch party.
AV: It was held at the Dreamland Theater in Ypsilanti, and featured performances by Christine Hume and James Marks, Joel Levise, Barrett Watten, and Viki. That event was part of the issue in a way, even though it doesn't show up directly on the site.
KCT: The Web site says that textsound is interested in the "experimental idea and how it shows up everywhere." What do you hope the journal will achieve?
LW: I can't speak for all of the editors, but I, for one, hope that part of what we'll be doing is connecting people who may not have heard of each other but who would be glad that they did. That includes international works, works in different languages, and people who are maybe not just out of grad school but who are making really interesting things and getting connected through the journal.
AV: I really liked the international component of the first issue, having the Danish poets in there, and having Linh Dinh read work in Vietnamese. One of my goals is presenting how big the world is but also handpicking the carefully thought-through pieces, in terms of political content, work that's thinking about gender, and really getting the cream of the crop in one place. There have been a lot of surprises.
LW: We're all committed to experimental sound and poetry. We've been talking about the fact that it might be interesting to put something more traditional in with the that stuff because it would then sound like the weird stuff, and everything else would be kind of normalized. In general we're not trying to solicit people to send us traditional poems being read from the page or traditional music being sung with a guitar. But I can imagine that someone could do something like that in a way that we could be excited about. That's a touchy point, so whatever we get has to be evaluated on a case-by-case basis. We don't want to say any kind of sound or any kind of music is okay. We're looking for the experimental.
KCT: Were there surprises in terms of submissions even for the first issue?
LW: All of it. It was exciting to have the four of us go off in different directions and ask people can you send us something and then to listen to what they sent. I loved the Edwin Torres piece "mawoma" because it does so many things that I'm looking for: it layers language at the same time that it's playing with the difference between words and sounds, and it has implications about gender and about humanity. And it just sounds weird. [Laughter]
AV: One thing I liked about the first issue was starting off with Joel Levise's piece "You Locate" which thinks about language in a really overt way. It deals with materiality of language and sound—with a rhythm in the background—but it's also a little philosophical. That to me is a great starting place: thinking about the role of language in people's lives, how it behaves in ways that are unexpected and that people don't think about consciously. The first issue really pushes how language works in all of the ways it works which seem infinite and evasive but really exciting. It's not something you can fully get a handle on but it's really fun to think about. Play is a big part of textsound. We play a lot at meetings, even though we have serious discussions, and have lots of cheese and beer.
KCT: Since there are four editors involved, do you listen to the pieces together or on your own?
LW: We do both. We listen on our own and then come together and listen together. When we meet, we throw around ideas about how to do things more or different or better and some of those are having events or doing the reading series
KCT: Is there anything you'd like readers to know about textsound that we haven't covered?
AV: I think of textsound as great exercise in friendship and love to figure out how to make something together.
LW: Our next deadline is August 1 and we hope to launch October 1st. The plan is to publish twice a year, so the October issue will be the second issue and the following may be in March. I'd say listen to the first issue, make work, and send it to us.
About the Interviewer:
KC Trommer's poems have appeared in or are forthcoming from AGNI, The Antioch Review, Coconut, Octopus, MARGIE and a number of newer journals. A graduate of the MFA program at University of Michigan, Ann Arbor, KC has been the recipient of an Academy of American Poets prize, as well as fellowships from the Maine Summer Arts Program, the Haystack Mountain School of Crafts, the Vermont Studio Center, and the Prague Summer Program. She lives in New York City with her husband, writer Justin Courter.