Editors in Conversation: Moon Milk Review and > kill author
Editors in Conversation: Moon Milk Review and > kill author
After this conversation took place, Moon Milk Review, edited by Rae Bryant, was absorbed into the new Johns Hopkins journal, the Doctor T.J. Eckleburg Review, where Rae Bryant serves as Editor in Chief.  
> kill author: When Portal del Sol paired us with you for this feature—not just flattery here—we were really pleased. One of the things we're struck by with Moon Milk Review is its "personality," the sense that you're always consciously striving to try new things with it. It feels like a "magazine" in the truest sense of the word too, rather than just a journal of fiction and poetry, because you've put things in there that a reader wouldn't typically expect to find in a lit-mag. Did you have this in mind when you started MMR? Did you have a clear manifesto or particular aesthetic in your head, and has this changed much as MMR has progressed?
Rae Bryant: Yes, the pairing is a mutual pleasantry, for sure. > kill author has been a consistent artistic presence for us at MMR and for me personally. We really enjoy what you do with the author issues, the focus on the work, not to mention the curious anonymity of the editors. We fantasize at MMR that one day we will open the "whodunit" envelope and find you on a card with a spiked espresso in hand, sitting in the library. If you feel a need to divulge, we promise not to tell…
On the question of manifesto, yes, the eclecticism of the magazine was an initial vision, something for which we continue to strive, along with a sense of movement and so the "change" element was of utmost importance. Hopefully, we've been able to keep the vibe going to some success. We like to think of MMR as a "village" atmosphere, like walking through the East Village or Brooklyn and experiencing a juxtaposition of artists and artistic forms in an "other worldly" way. This is what we endeavor to create through our editorship. We're merely the ring masters.
So the obvious question for you is how and where and why the secrecy, but you've been asked this before, and we respect and applaud the veil. So let's take it into the future. Where do you see the veil next year or the year after? Will > ka keep its anonymity and if so, are there any plans for "secret" readings? A > ka masquerade would be amazing.
> ka: "We're merely the ring masters" is a great way to describe your role. We'd never thought of it like that, but it's how we see ourselves too. You're right: the how, where and why have all been discussed, but the ring master metaphor is such an apt one to explain why we continue to do the anonymity thing. We're just the organizers, creating the atmosphere of > kill author (and the atmosphere and aesthetic is very important to us), and obviously selecting the work. But we don't > kill author to be about us. That's not to say we're against personality editors—it's just not our particular thing. We're the same when it comes to musicians (where the boom in home recording has meant a huge growth in "faceless artists"), to actors and, yes, even to authors. We prefer those who speak through the creative work they do, rather than feeling the need to be a big personality out front.
For the future, we'll keep the anonymity going, certainly while we're still editing > kill author. We couldn't do anything else, considering all we said in the previous paragraph. If we stop the magazine and move on, then who knows if at some point our names won't slip out? Maybe, but it would be less important then. Our only dilemma comes when we wonder what might happen if we wanted to hand > kill author to new editors—would they be willing to remain anonymous too? Could they be trusted not to reveal themselves? As for readings—heh, masked readings sound like a cool idea, but we'll probably just keep to producing the magazine. For us, that's the focus—those virtual pages every two months illustrating the > kill author approach.
Can we move on to the subject of reading submissions? We've both talked about the manifesto and the vibe of our publications. When you read through all your subs, do pieces which fit your aesthetic immediately leap out at you? They tend to for us, and we sometimes feel guilty about it. We're like "Yes! This writer just completely gets what we're about!" We've been known to punch the air. It's exciting, but because of that we always take care to examine those stories or poems in particular detail, reading them over and over again, to check we're not being blinded by the original thrill. At the same time, we don't want everything we publish to feel similar. We've featured work that's consciously different for us—what many editors would call "not a good fit" in normal circumstance—but which succeeded in wowing us. Rightly or wrongly, we always give this information to the writer too: "this isn't normally the kind of thing we'd publish, but it just grabbed us so much we have to feature it." Does any of this match your experience of reading subs?
RB: Honestly, I have to say MMR tries to keep an open aesthetic. We do look for edge and character-focused storytelling. We like to be pulled into the story with character and language right away and with such a grip as to not let us go, but this doesn't mean we're looking for a "hook." But yes, in terms of aesthetic, we do like to mix it up. Personally, I have an appreciation for anything Modernist-Minimalist to Postmodern and beyond, whatever it is we're supposed to be calling the "new" wave of styles, so I'm constantly open to structure and what seems to be the author's intended direction. What I don't go for are stories that spend less time on character and language and more time on other things. What I especially go for are stories with character and language that is hard to distinguish from each other because the narrative voice is so entwined and necessary it's impossible to imagine any other voice.
Speaking of language and character, let's move into recent issues. I'm particularly moved by Josh Collins story, "I Am a Man with a Fractured Skull." (Issue 14: The Joseph Heller Issue) The structure of the story plays an important role. The reader must pay attention to paragraphing and imagery in a more active way than most prose: i.e., disembodied axes, a mirror ball in the narrator's stomach. The story takes on something of a poetic direction with this structure and imagery, a style not always comfortable for many editors. How does this style play out editorially when > ka reads submissions?
> ka: How does this style play out editorially? Carefully! That's to say: if a piece like Josh's—with, as you say, a poetic direction, a more difficult structure—grabs our imagination, we register the fact we liked it and it made an impact on us from the start, but then put it aside a little while to think over it before approaching it afresh with an even more critical eye so we can fine tune our opinions of it. We think about what the piece is saying to us—an important question is: is it also entertaining us to read it?—and hope it will have the same effect on readers. If it's what might be called a "difficult" piece—we don't really like the term "experimental" because how experimental something is really depends on your frame of reference—then we may very occasionally delve into a little of what the piece is about with the writer, but we admit it's rare for us to do that because a piece needs to have an effect and an emotional resonance on its own terms without necessarily bringing the writer's backstory and explanations on board.
It's very easy to be wowed by explosive language, innovative structures and challenging ideas, but we do stand by what we say on our "About" page—we value work that knows how to tell a good story and can take the reader from A to C via B, but which makes that journey in extraordinary ways. Josh's piece definitely fits into that category.
Talking of different forms of work, Moon Milk Review's seasonal Prosetry Contests were a great idea and have used compelling images to inspire some equally compelling work. Going out there and inviting submissions with a particular challenge in mind is something we've considered—we're especially interested in inviting writers to "remix" the work of others and perhaps have a whole issue based around such an idea at some point—but we've not yet dipped our toes in the water. Do you like the idea of a literary magazine putting an idea or theme out there and inviting responses, as a way of occasionally doing something a little different from a wide open submissions policy, and is there more to come from Moon Milk Review in this area?
RB: "Is there more to come from Moon Milk Review in this area?" Yes. We like the idea of multimedia and collaborative art. I took a long trip West recently and on the trip, I spent a good deal of time thinking about music and composition and how it might relate to text. When I was at the VCCA, I met composers and visual artists also in residence. In fact, my studio was a composer's studio with a baby grand, and I couldn't stop thinking about my grandmother who had attempted to teach me piano, though I studied clarinet instead. I studied very badly. Didn't practice, was bored, but I'm glad I had the musical involvement, and now, as a writer, I find myself enthralled with music and musicians and the craft of putting rhythm and melody and words together. Anyway, this all makes me obsess about the "album" and how the concept of musicians coming together in a group might translate into writers coming together in a "group." I'll not say much more about it as it's still sort of floating around my head, but yes, MMR is always considering the alternative and the progressive. Though, what you've stated is tantamount. The story. It's always about the story. For me, if it's prose or poetry or painting or music or film, it's always about story. And I'm always happy to stretch my mind within a story's structure and landscape, but if the story doesn't come through, first and foremost, I find myself asking whether the piece was masturbatory—a writer getting himself or herself off—rather than artistically centered.
On the note of remixing, I love it. Truly, as writers, readers, editors, we are a culmination of what we've read. To engage in this amalgamative craft so transparently is a lovely practice, and I'm all for it. >ka is such a perfect publication to do this, too, as it pays tribute to literary greats with each issue. To continue the practice through a remix issue would be something I'd like to see. Playing with the voice of a loved author within the landscape of your own work, while paying tribute to said author, is fun and pays a compliment, I think, as long as the tribute is made clear.
On the topic of "difficult" or "experimental"—which I agree, experimental is definitely a relative term—who does >ka see as the more boundary pushing and story-centric writers today? The writers who have left the boxed idea of what a story "should" be but still keep the necessities of story? I guess another question might be, what are the necessities of story according to >ka? Hmm, necessities. Even as I write the word, I'm thinking how much I love stories that create their own necessities.
> ka: We're going to skillfully sidestep the question about specific writers—though obviously not too skillfully, since we're mentioning it at the same time as doing it—because we're a little reluctant to put the knowledge of out there about who we admire for fear it'll perhaps influence people too much in their submissions to us. We want writers to submit work because they genuinely feel they're on our wavelength and inside our thinking, rather than because we admire the same authors. But—and here, again, the parallels with music are maybe significant—you're right in your analysis that we definitely admire those writers who have stepped beyond the rigid ideas of what a story should be, while never forgetting how important the necessities of a story are to the reader. As you mentioned music in your previous response, it's the same with that too. We tend to admire those musicians who hear and then interpret sounds in a unique, startling way, but—crass and simple-minded as it might sound—also don't forget their audience sometimes wants a damn good melody and a few hooks too.
As for those necessities of a story and what they are for us: practically speaking, well, we've hinted above at the idea that we're concerned with a writer not losing their readers. Take apart the story's structure and the form, turn it inside out, shake up every convention you want, do whatever you want to it, but do keep in the back of your mind that there's an audience out there too. Remember to take them with you. If you decide to push them down alleys, kick them in the guts and leave them gasping on the ground, at least drop couple of crumbs for them to see where you're going. Otherwise you may as well just massage your own literary ego in private.
More intangibly, an absolute necessity for us, when it comes to both stories and poetry, is to be completely immersed in the world the writer creates through their words. We're not talking about the people, the places, the ideas they're writing about, all those specifics, but more the author's own belief in what they're saying and the way they're saying it. In a way, it's back to that favorite idea of fiction and poetry being forms of escapism (even if the subject matter often isn't an escapist one). The story can be a one paragraph piece of micro-fiction or a full-blown epic, but if we're not completely immersed in the writer's world as we read it then it's very unlikely to go any further with us. There's no doubt this means we've rejected perfectly structured, expertly paced stories, full of mesmerizing writing, in favour of pieces that were ragged, uneven, sometimes with language that didn't quite hang together, because we were completely sucked in by the latter rather than the former.
RB: Yes, we like grit in our stories, too. And refinement. Refinement is lovely, and when the two come together, it makes us swoon. Gritty refinement. Yes. That story stays with us. A pleasure to chat with you, >ka.
> ka: It's been a fascinating conversation. Thanks for making us think about what we do, and good luck to you and Moon Milk Review for the future.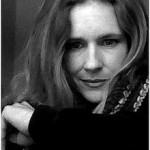 Rae Bryant's short story collection, The Indefinite State of Imaginary Morals, released from Patasola Press, NY, in June 2011 and has been nominated for the Pen Hemingway and Pushcart awards. Her stories have appeared in BLIP Magazine (formerly Mississippi Review), Gargoyle Magazine, Opium Magazine, and PANK, among other publications. She has work forthcoming in StoryQuarterly, Ampersand Review, and other publications and writes essays and reviews for such places as Puerto del Sol, The Nervous Breakdown, Portland Book Review, and Beatrice.com. Rae has received Fellowships from the VCCA and Johns Hopkins University, where she earned a Masters in Writing and the Outstanding Graduate Award. In summer 2011, she attended the Sewanee Writers' Conference, where she studied with Alice McDermott, and the JHU Conference on Craft in Florence, Italy as a JHU Fellow, where she studied with and assisted Jill McCorkle. She teaches multimedia and creative writing in The Johns Hopkins University, Master of Arts in Writing program and is editor in chief of the program's new literary and arts journal, The Doctor T. J. Eckleburg Review.
The Editors of > kill author choose to remain anonymous.  See http://killauthor.com/about/anonymity/ for more details.