Review of Versal 9
by Joseph Harrington
Versal, an international English-language literary and art journal published in Amsterdam, is the editorial labor of expat poet Megan Garr, Utah fiction writer Robert Glick, and an extensive editorial board composed of North Americans and Europeans. Decisions are made democratically by the group, in good Dutch fashion, and the contents reflect their diversity of opinions. Although Versal typically leans towards what in this country is often called "experimental," one never knows exactly what that will mean in any given issue.
Issue number 9 begins more playfully, even whimsically, than past issues. In Carmen Petaccio's "Tornado," the eponymous cyclone writes a note: "Hello. I am your tornado" (11). Or take Nate Liederbach's "Demonstrum": "Despite the sawdust and cigarette butts, despite the wretched fumes like so many regurgitated oysters, her golden snout was a velvet cloth upon my shattered brow . . ." (27). Jacqueline Vogtman's "Letter from a Suicide to a Troll" has everything one would expect from the title. Brandon Betz' "Stop Me If You've Heard This One Before" is (yes) a comic game of chess between God and the Devil. "Literaturization: An Introduction to Miniaturism," by Benjamin Van Loon, is a thoughtful, meticulously researched academic article about something that doesn't exist.
There is also lots of semi-figurative, sorta-surrealist, or quasi-symbolist lyric poetry, as Tony Mancus' "Where the Water Comes from and Gets Together with Its Friends": "Look at the way the smoke comes alive, lifting/ the river clean up over our bed, how it unmakes our mess.// You listen to shivers through February./ No fires there in the coal or the coil." Many of these lyrics are tone poems written in beautiful music: "Wings of thorn, ocean of pine, tassels,/ timeless rot. Here bends the ocean trench, bound in yarn,/ your all-in-all consuming watch. Wash, a photograph in // reverse does not repeat" (Jane Wong, from Sea of Trees).
But none of this really prepared me for Alice Notley's Voices (at least the opening pages thereof), which is placed in the center of this issue of Versal. Eudora Welty once said that being a novelist in Mississippi is like living next to a mountain, and perhaps the same could be said of being published next to this poem. Very few writers capture the terror and despair in the present moment more acutely than Notley:
You entered this hall in your moonlit unconsciousness pleading

for a different life. You're here without knowing it; therefore

attentive. Where did we really come from, the horizon, or nowhere?

We come from sleep, where we are now. We come from the district

of  tissue: from details that obliterate design like seafoam. Forget them.

You can't ask for money where we are; you'll watch your pain without hurting. (75)
This is relatively simple language that evokes rather complex thoughts and feelings. Voices, written in both prose and verse, seems to take place in a dystopian dreamscape/underworld and is spoken by a pre- or post-historic woman, an oracle who channels all the voices in the world. Notley has trodden similar ground in The Descent of Alette, but Voices is a more meditative, discursive poem with longer lines, looser sentences, and a more implicit narrative.
After that (because of it?), Versal 9 starts to seem a bit heavier, as in Rob Cook's "Hunting for Statues Missing in their Own Stories": "A man notices many silences: // One when he says good things to himself as he lets the dark out of his body. // Another that gives him the courage to pay attention to where/ he abandons each breath" (106). Or Steven Salmoni's elegiac "Landscape with Clouds" with
"clouds, as they move, in their image as the problem of the ground, beneath. // So as to pass, these names, their qualities, mark a revenge of the whole. // I mean that passage, once expressed, always has an afterlife, the solution in small regions to the one that has just been implied" (124).
This is not to say that there are no ludic or aleatory poems in the second half, too – indeed there are, along with a theriomorphic transformation or two. The overall aesthetic here is arational, evocative, (sub)liminal, sometimes funny, sometimes creepy. The art work follows this pattern, as well: optical illusions, organic matter out of place, indoor rainbows, lost faces (and even a pre-coital contract).
Versal is well worth subscribing to, for those not afraid of the dark. The ninth issue confirms the journal's reputation as a site of much trans-atlantic creativity and editorial acumen.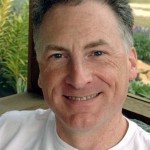 Joseph Harrington is an associate professor of English at the University of Kansas. He is the author of Things Come On: an amneoir (Wesleyan 2011) and Poetry and the Public (Wesleyan 2002).