The First Year: Vinyl Poetry
In The First Year, four editors of magazines in their first year of publication write about what they are doing and why, and the challenges and triumphs they encounter along the way. This month, we asked the editors to introduce their publications, the people involved, and to speak to why they decided to start a literary journal.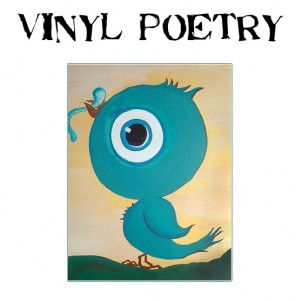 K.M.A Sullivan
Vinyl Poetry is an online mag based almost entirely on a high regard for immediate gratification.
Gregory Sherl and I met when we were both MFA students at Virginia Tech. We founded the mag about a year after we switched concentrations from fiction to poetry. We were pretty much intoxicated by everything that had to do with poetry. We read and read and read. We wrote and wrote and wrote. Gregory was and is a particularly voracious reader of online lit journals. He would frequently send me links to work he'd found. We were the most happy when we came across poets we had not heard of before but whose work knocked us silly. I still remember the first time I read something by Anne Marie Rooney. It was her poem "O" in Abjective. That was a moment. As was the first time I read work by Nate Slawson, Thomas Patrick Levy, Rickey Laurentiis, Metta Sáma and so many others. Love at first sight.
And that is the heart of Vinyl Poetry. The mag is entirely self-indulgent on our part. We find poetry we can't live without and then we ask those poets to offer some pieces for Vinyl. Our belief is that if we love the work, others will too and we should do what we can to bring the poetry to as many readers as possible. This might explain our rather strange submission policy.
In general, most of the material we publish in Vinyl is from writers we have approached after coming across their work online or in journals or through recommendations. Phillip Williams recently turned me on to the work of Anna Journey and I immediately contacted her for a submission for the third issue. But Phillip, himself, is young writer who took us up on the offer to send in links to online work. We read his work that was up on various places, asked for new material, and were very happy to include three of his poems in the second issue of Vinyl (http://www.vinylpoetry.org/volume-2/phillip-b-williams/).
For the first issue of Vinyl we needed to choose not only the poetry but also the look of the publication. Our guiding thought was to produce an online mag that was pleasant to look at but whose visuals did not detract at all from the words. Gregory and I appreciate the lit content of many magazines but we find the clarity and elegance of journals such as Diode and elimae the most effective in offering an appealing publication that allows complete focus on the words they offer.
We did, however, want some visual distinctiveness for the site, so we approached the painter, Allie Kelley (http://365painting.blogspot.com/2011/01/monster-love-notes-from-sharpie-doodle.html). We attended one of her gallery shows and saw many pieces whose whimsy and imagination we admired. As luck would have it, Allie Kelley generously allowed us to incorporate her art into the magazine.
Behind all of the aesthetic considerations are the technical realities of starting an online lit mag – like how in the hell do I format Jason Koo's awesome work so that it looks like he wants it to look on the page (http://www.vinylpoetry.org/volume-2/jason-koo/ )? And how is it that HTML collapses spaces because it doesn't like them?  Shout out to Rusty Barnes, editor of Night Train, for talking me off the ledge when I was faced with that reality.
If my web design learning curve was a ski slope then I was sliding down a black diamond run narrowly avoiding shrubs and coniferous trees. There were some pals to help in the beginning: Megan Laurel Wilson, an animation artist, my husband Daniel, a database architect, and my youngest son, Nicholas, whose main credential is that he is fifteen years old so he knows a whole bunch of shit I do not.
However, the real mountain rescue occurred with the second issue when Thomas Patrick Levy came on as web designer/ski instructor. I still have not figured out how a poet with Thomas' creative gifts can also take charge in a world inhabited by HTML code and CSS style sheets. But I do not question our good fortune, By the way, Thomas also repossesses cars for a living and frankly, that's just rock and roll.
K.M.A Sullivan's poetry has been published in PANK, Potomac Review, Gertrude, Pearl, and Night Train, among other publications, and has been awarded residences in Virginia Center for the Creative Arts in creative non-fiction and from Vermont Studio Center in poetry. She is the co-founder and editor of Vinyl Poetry. She curates two reading series, PolyPerformance Series and Connecting Ridges in Blacksburg, Virginia. Her newest endeavor is YesYes Books of which she is owner and publisher.